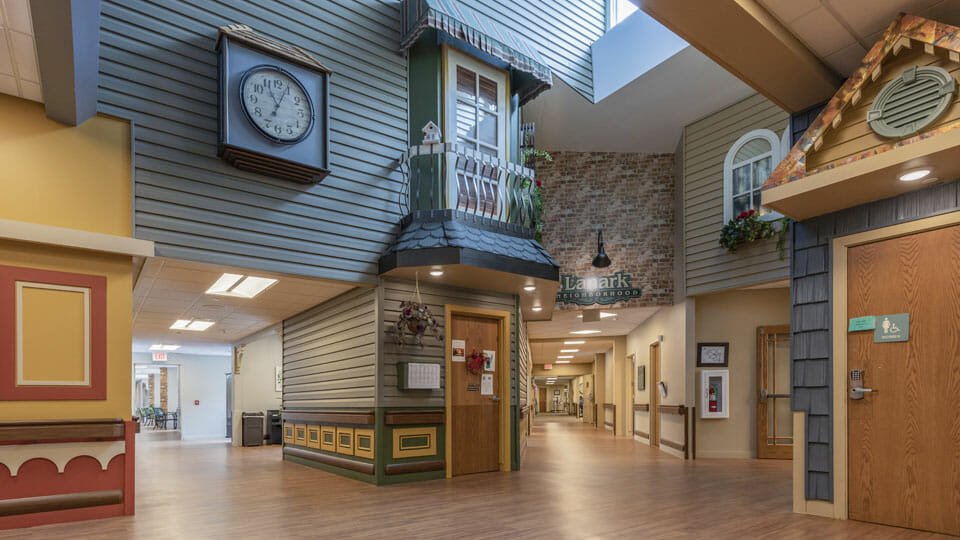 "Neighborhood Design" Helps Preserve Identity for Senior Living Residents
Your house, neighborhood, favorite park, and the restaurant you frequent are all pieces of your identity. They help shape who you are, and you develop strong connections with them. When people leave their homes and neighborhoods to move into senior living communities, they give up some of those touchstones or references; they risk losing parts of their identity. Valley Memorial Homes, a senior living non-profit in Grand Forks, ND, is making sure that does not happen.
Valley Memorial Homes constantly looks for ways to improve the experience for its residents. Recently, they wanted to give their Valley Eldercare Center a fresh, new feeling with a more unique environment. They wanted to create spaces inside their center that would reflect the variety one sees in neighborhoods—from cafés and shops to parks and a town square.
Telling someone, "I live in the Riverside neighborhood and eat at the Riverbend Café," provides a much different identity for residents than saying, "I live down the taupe hallway in room 136 and usually eat at the fourth table from the left in the cafeteria."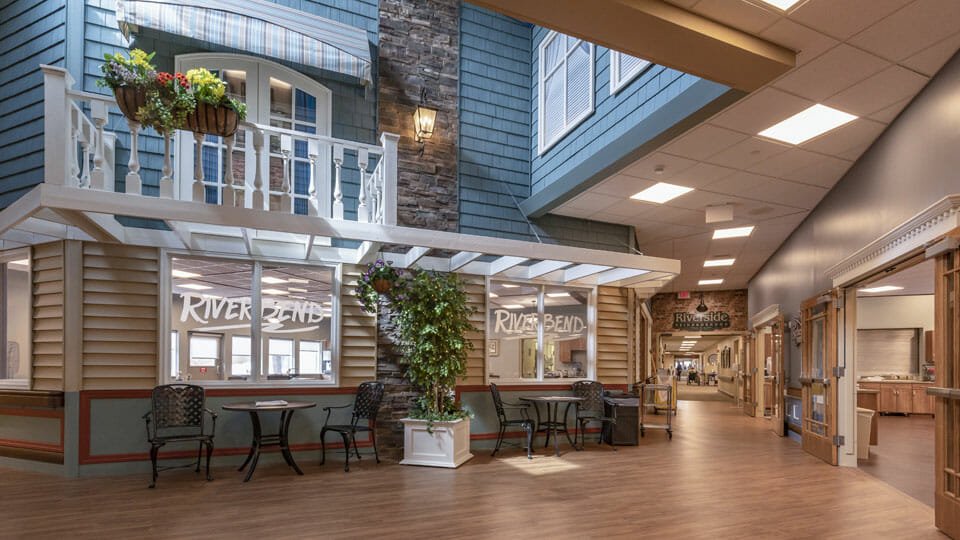 Valley Memorial Homes worked with Widseth Smith Nolting to help bring their vision to life. For the past 16 years, the two have collaborated closely with a shared commitment to the changing needs of residents.
Working together, the team came up with the following list of neighborhood design elements to incorporate into their building:
Adding smaller, intimate spaces that create quiet areas for residents to engage in conversation and activities.
Creating common spaces that feel more like a large living room with a fireplace to gather around and nearby kitchen for residents' use.
Transforming interior spaces into home-like or neighborhood settings by incorporating materials and design details such as plants, awnings, balconies, storefronts, and streetscape elements.
Improving wayfinding through new signage and a variety of architectural styles to separate and identify spaces.
The project has been a huge success. Residents enjoy the unique neighborhood look and feel of Valley Eldercare Center. Town Square has become the hub of activity as residents and families enjoy the outdoor inspired spaces, visiting at one of the unique cafes, and playing games.
Consider making life changing improvements to your senior living community that will help your residents feel more at home.