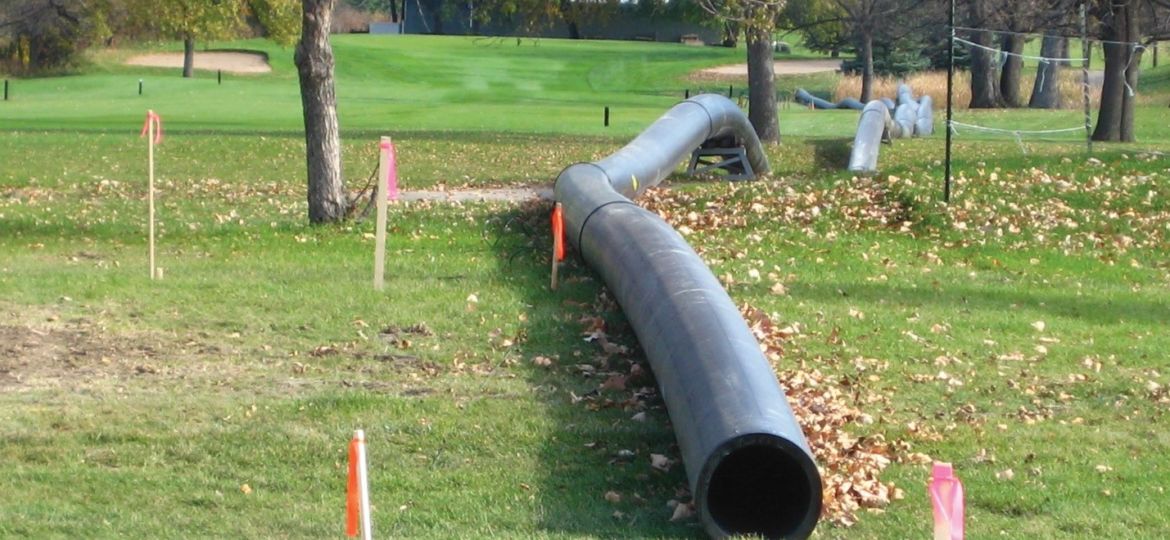 Widseth Wins Project of the Year Award
Widseth Interconnect Wastewater Project in East Grand Forks, MN and Grand Forks, ND received the City Engineers Association of Minnesota's top engineering award: Municipal Project of the Year. This is the second time within five years that a Widseth project has received this award.
After more than 10 years of planning, neither the Red River of the North nor state lines would deter the cities of East Grand Forks, MN, and Grand Forks, ND, from collaborating on a project that would result in Grand Forks providing wastewater treatment for its neighbor to the east.
The Interconnect Wastewater Project is a successful example of a complex project that links two border cities. The design coordinated the transfer of East Grand Forks' wastewater to the City of Grand Forks. A successful partnership was built among the City of East Grand Forks, the City of Grand Forks, and all involved agencies. Widseth organized effective communication channels throughout the project's planning, design, and construction phases, and helped bring collaboration among the communities and state agencies to a whole new level.
Widseth provided project management and construction engineering for all phases. The team completed the design, prepared construction plans and specifications, and assisted East Grand Forks with bidding and contract awards. Some specific tasks Widseth performed included topographic survey, coordination with public and private utilities, preliminary design with both cities, and working with the City of Grand Forks' consultant to help prepare a Cost of Service Agreement (COSA).
With help from Widseth, East Grand Forks secured funding for the project from the Minnesota Public Facilities Authority (PFA) and the State of Minnesota's Bonding Bill. Widseth also assisted with meetings with the State Bonding Committee and tours for state legislators. Once construction was underway, Widseth completed all construction layout staking, construction inspection, and all contract administration.
Technical Details
The Interconnect Wastewater Project comprises a new tri-plex lift station, diurnal basin, forcemain, and equalization basin. The basin allows for a steady flow rate that enhances efficiency and ensures Grand Forks' lift stations are not overloaded. The basin also provides East Grand Forks adequate storage to handle peak or normal wastewater flows. Forcemain installation included a 1,200-foot directional bore 70 feet below the banks of the Red River, staying well below an existing slip plane on the river's Grand Forks side. The equalization basin provides three weeks of storage capacity in the event Grand Forks is unable to accept wastewater.