Project Overview
The City of Nisswa and Crow Wing County are proposing to construct a roundabout at the intersection of CSAH 77 & Nokomis Avenue. The project will also include a bituminous overlay of CSAH 77 from TH 371 to the Cass County border (see map and drawing below). The City of Nisswa, Crow Wing County, and Grand View Lodge have been working together to address the safety concerns at this intersection, which are especially problematic during the summer months. The project also includes sidewalks and pathways for pedestrians, bicyclists, and golf carts. The drawing below shows an overview of the intersection as proposed.
Detour Map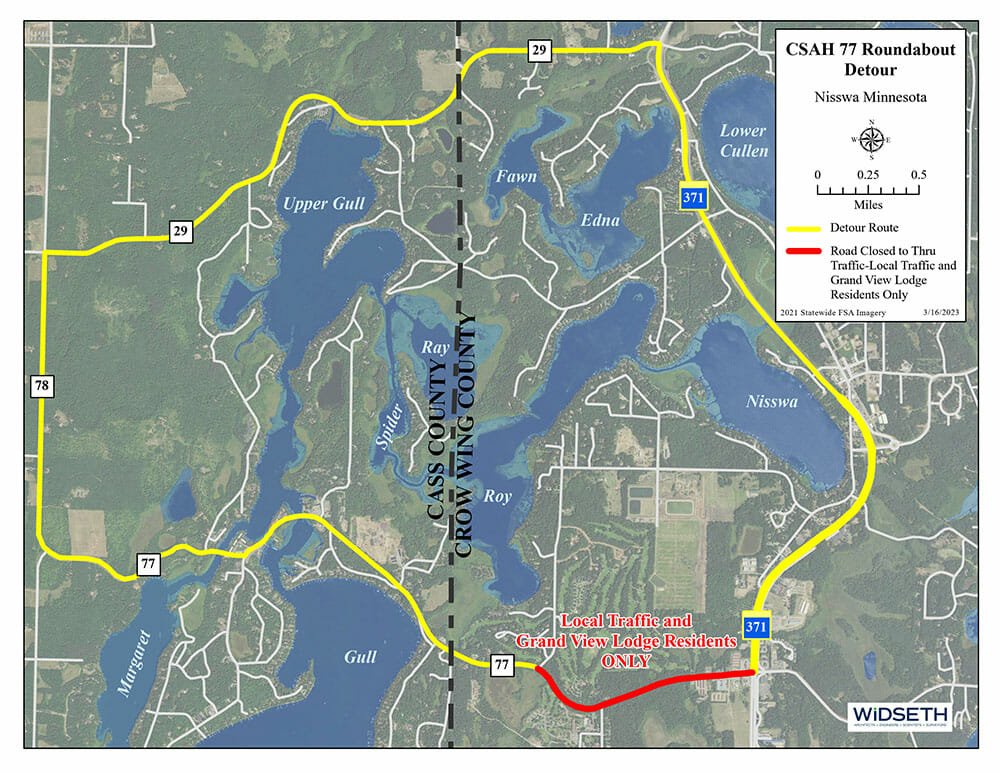 Construction Timeline Coming Soon
A construction timeline will be posted mid to late April. Construction is anticipated to begin mid to late May following road restrictions.
Project Updates
March 16, 2023
When the project begins in mid-April, CSAH 77 will be closed to thru traffic. There will be a temporary road constructed for the Nisswa residents that live in and around Grand View Lodge. Before CSAH 77 is closed, a pre-notification sign will be posted indicating when the road will be closed. The detour will begin at the intersection of Hwy 371 and CSAH 77, go north to CSAH 29, then west to CSAH 78, and then east to CSAH 77. View a map of the detour. 
March 7, 2023
The project was let on March 1, 2023 with Anderson Brothers Construction having the lowest bid at $1,507,500.09. Next we will be scheduling a preconstruction conference to review the project with the contractor and their proposed schedule for construction. After the preconstruction conference we will update this site with key tasks including the anticipated date for the road detour do be in place. In addition, coming soon will be a link so that the construction site may be viewed to see the construction status. The first milestone for construction will be to have all the trees that need to be removed cut down before March 31, 2023.
Project Engineer Joe Dubel
If you have questions about the project, please contact Project Engineer Joe Dubel, PE.
218-316-3663