Senior Living Centers Designed to Promote Individual Identity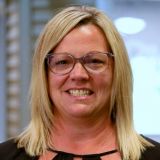 Gina Roller
Valley Senior Living
Administrator
"The neighborhood concept strives to give the residents a sense of identity. All of our communities, or neighborhoods, are named after historic Grand Forks areas. That helps residents identify with local areas they may be familiar with. Widseth has been fantastic to work with. They have been very responsive and collaborative."

Creating Vibrant, Thriving, and Engaging Facilities
You strive to offer nurturing, thoughtful, quality care and services to your clients. You deserve facilities that support your mission.
Our architects and engineers stay on top of the latest trends and research in facilities for senior living and care. And we'll work alongside you as you explore the next steps for your facilities and services.
Senior Living Photo Gallery
Check out some of our senior living projects in the gallery below. Click the main image to go full screen.
Featured Stories of How We Help Our Clients
"Neighborhood Design" Helps Preserve Identify for Senior Living Residents
Looking for ways to improve residents' experiences, Town Square—a common space within Valley Senior Living on Columbia—reflects the variety one might find in their old neighborhood. Store fronts, cafés, greenery, and other sights are a welcome addition for residents who may no longer be able to experience these familiar places in person. By incorporating materials and design details such as plants, awnings, balconies, and streetscape elements, Town Square helps residents maintain a sense of place and belonging. It has become a hub of activity as residents and their families enjoy the outdoor inspired spaces, visiting at one of the unique cafés, playing games, or simply sharing memories.
Activities Room Provides Flexible Space for Interaction
The new Wheatland Terrace activities room at Valley Memorial Homes solved many problems for the once small area. It now offers a larger space where residents can thrive while participating in various activities. The addition features a vaulted ceiling with beams, a stone fireplace accent wall, new kitchen, large windows for natural light and views, and a patio where residents can relax and enjoy the fresh air or even plant flowers and greenery.
Two Buildings Become One Assisted Living Complex in Montevideo
To provide for the needs of their aging communities, Partners Senior Living Options recently expanded their complex in Montevideo, MN. The 11,900-square-foot addition connects two existing buildings and includes eight one-bedroom apartment dwelling units. Renovations were also made to units in the existing buildings, bringing the total number of resident rooms to 26. The addition provides a common dining area with a commercial kitchen and large living area with a fireplace.