Architecture & Engineering for Manufacturing & Industrial Facilities
Widseth's Digi-Key Expansion Project Receives ACEC/MN Grand Award
Widseth's Digi-Key Electronics Product Distribution Center Expansion project recently received an American Council of Engineering Companies (ACEC) of Minnesota Grand Award. Check out ACEC/MN's digital publication of Framework to see all the winners.
As one of the largest electronic component distributors in the world, Digi-Key Electronics' rapid growth created a need for more efficient space. Widseth designed the 2.2-million-square-foot product distribution expansion to house the millions of products stored and readily available for same-day shipping.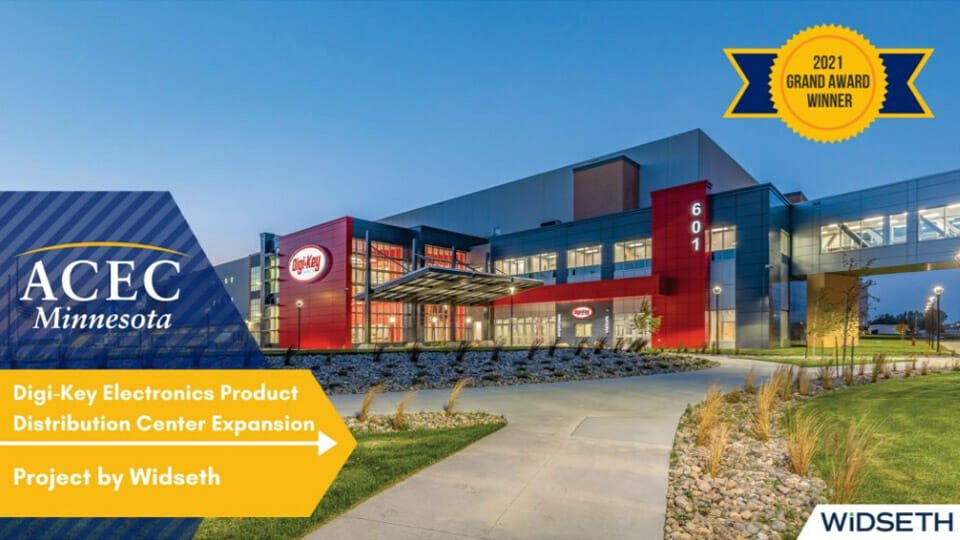 Industrial Photo Gallery
Check out some of our industrial projects in the gallery below. Click the main image to go full screen.
Hlebichuk Has Personal Tie to Truck Center Companies Project in Mankato
It's difficult for an architect or engineer not to become personally attached to a project. For Widseth architect Dana Hlebichuk the future Truck Center Companies project in Mankato, MN, is extra personal. Watch this short video from the groundbreaking ceremony to learn how the design of the facility could ultimately impact Dana's son. Widseth is providing civil engineering, architecture, land surveying, structural engineering, landscape architecture, and environmental services on the 90,000-sq.-ft. project.
"Scan-to-BIM" Generates a Wealth of Information to Speed Up Your Planning, Design, or Expansion Efforts
What's the biggest challenge your manufacturing facility presents? Are there inefficiencies with production lines, mechanical or structural issues, or is…
Digi-Key Electronics, one of the largest electronic component distributors in the world, celebrated the grand opening of its Product Distribution…
Featured Stories of How We Help Our Clients
Widseth Provided Full A/E Design Services for Digi-Key Electronics' $300M Expansion
Digi-Key Electronics is experiencing rapid growth worldwide. The electronic components distributor is bursting at the seams and desperately needs more space. Digi-Key selected Widseth to design a 2.2 million-square-foot expansion at its headquarters in Thief River Falls, MN. The $300 million project will house 3,400 employees and projections suggest 100 new employees will be added each year for the next 10 years.
Prior to the start of detailed design, our land survey crew and aerial mapping team collected LiDAR data and high-resolution imagery of the site and surrounding area. This served as a highly accurate basis for our architects and engineers to begin design. The building, systems, and site infrastructure were all designed by Widseth's structural, mechanical, electrical, and civil engineers. Our architectural team guided Digi-Key through a collaborative design process that addressed its space and operational needs, while allowing for flexibility in the future and changes in technology.
Widseth-designed Industrial Park Encourages Growth in Fosston
Funded in part by EDA and DEED, Widseth worked with the City of Fosston on the development of a 50-acre site. Working around wetlands, existing utility easements, and Fosston Municipal Airport, the project consists of 2,400 feet of sanitary sewer, 3,500 feet of watermains, and nearly 3,000 feet of concrete storm sewer. The project also includes a stormwater detention pond, direct access to US Highway 2, 3/4-mile of new streets designed to accommodate heavier vehicle loads, and a 470-foot storm sewer outlet pipe that runs under all four lanes of US Highway 2 and BNSF Railroad tracks.
Harmony Enterprises Increased Productivity With Improved Site Circulation
As a company that is committed to efficiency and environmental stability, Harmony Enterprises turned to Widseth for site solutions that would support its mission, values, and workflow.
Project improvements include:
A new storm sewer system redirects stormwater away from the site, linking to the existing system downstream.
Two new drainage ponds handle stormwater runoff, preventing excess water from collecting on the site.
Moving the truck entrance to the north side of the facility improves navigation and separates truck traffic from employee and customer traffic.
The new, enclosed loading dock combines shipping and receiving, improving workflow and efficiency. The drive-through bay is significantly more efficient than the old loading docks that required drivers to back their trucks up to load and unload.
Trucks navigate around the new turnaround lane to the enclosed loading dock. The site accommodates multiple trucks, preventing back-ups from reaching the adjacent roadway.